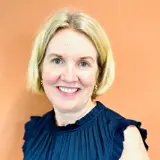 Acting Chief Executive Officer, Infrastructure NSW
Appointed 15 February 2023 by virtue of her position within the NSW public service and consistent with the Infrastructure NSW Act 2011.
Janine Lonergan has worked in the NSW Government for more than 25 years. She has been at Infrastructure NSW since 2019 and has been acting Chief Executive of Infrastructure NSW since February 2023.  
Prior to Infrastructure NSW Janine led the Office of the Secretary at the NSW Department of Industry. 
Janine has spent most of her public sector career as a lawyer, leading legal teams in the areas of legal advice, statutory interpretation and legislative reform across diverse subject matter areas including water and primary industries.  
Janine was part of the winning team in the 2022 Premier's Awards for the "Strong Economy" category, with the Team being recognised for its role in the construction industry shutdown response. She was an integral leader in the construction industry reopening throughout the COVID shutdowns.