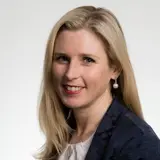 Private Sector Member
Appointed November 2022
Over the course of her career in the public and private sectors, Simone has established herself as a leader in finance and investment, asset management, legal and governance, and risk strategy. Currently Simone is Chief Risk Officer for Institutional Banking and Markets and Treasury at Commonwealth Bank Australia (CBA).
Prior to joining CBA, Simone drove a step change in first line risk, customer focus, compliance and conduct outcomes for NAB's Institutional Bank. Simone has also had made an outstanding contribution to the public sector including as lead Deputy Secretary on the Department of Education Covid Taskforce and as Deputy Secretary for NSW Treasury.
During her public sector career, she transformed the state's financial risk and financial management policy, systems, frameworks, and capability. Prior to joining the public sector, Simone held senior roles at Access Capital, ABN AMRO, Freehills Freshfields and Babcock and Brown.