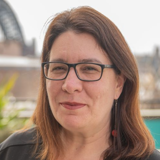 Secretary of Planning, Industry and Environment
Appointed 15 May 2023 by virtue of her position within the NSW public service and consistent with the Infrastructure NSW Act 2011.
Kiersten Fishburn is the Secretary of the Department of Planning and Environment. In her role, Kiersten oversees a diverse portfolio spanning our natural resources and the environment, heritage, planning, land and housing, and local government.
Kiersten has worked in the public service for two decades, across multiple portfolios and two tiers of government.
She brings great enthusiasm and energy to her roles. She's widely ambitious and passionate about delivering thriving environments, communities and helping NSW achieve its full potential.
Most recently, Kiersten was Deputy Secretary, Cities & Active Transport at Transport for NSW, focusing on ensuring our cities and neighbourhoods are integrated with transport, making places, streets and open spaces functional, beautiful, inclusive and inviting for all to enjoy.
Prior to joining Transport, Kiersten led the Planning Delivery Unit (PDU) in the Department of Planning Industry and Environment. She was also the CEO of Liverpool City Council and held leadership roles with Casula Powerhouse Arts Centre and Accessible Arts and City of Sydney.