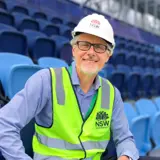 Chief Executive Officer, Infrastructure NSW
Appointed 23 October 2023 by virtue of his position within the NSW public service and consistent with the Infrastructure NSW Act 2011.
Tom has more than 25 years of experience in strategic urban, transport and infrastructure planning and delivery at the state and local government level.
He has spent the past 4 years as Head of Projects at Infrastructure NSW and held several senior executive roles including Acting Chief Executive of Sydney Metro, Deputy Program Director at Sydney Metro, Deputy Project Director of North West Rail Link, and Deputy Director General at the NSW Department of Planning.
Tom's work has involved the coordination of the private and public sectors in the delivery of major infrastructure projects, the development of land and the provision of urban services.