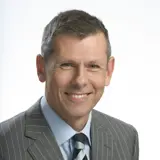 Secretary, NSW Treasury
Appointed 11 October 2021 by virtue of his position within the NSW public service and consistent with the Infrastructure NSW Act 2011.
Michael Coutts-Trotter was first appointed to head a NSW Government department in 2004 and has since led seven agencies. He is now the Secretary of the NSW Treasury.
Before joining the public service, Michael was chief of staff to a NSW Treasurer for seven years. Michael is a fellow of the Institute of Public Administration of Australia.